Next Regular Meeting is 3/18/18
March Meeting
Robert Skillin  
I have been growing cacti and succulents for 40 years, and have been involved in various local societies for most of that time, starting with the San Diego C&SS in the 1970's, then to the Santa Barbara and Bakersfield clubs. I currently belong to the Central Coast C&SS of which I was a founding member, first President and first Show and Sale Chairman.  I have also been involved with the CSSA as a member of its Board of Directors, and am a CSSA certified Judge.
Along with my interest in cacti and succulents, I enjoy photography and travel. These interests have come together in a wonderful way during my botanical explorations of the western US and Mexico, and portions of South America, Africa, Madagascar and the Middle East. I have several programs based on these trips, and I speak regularly to clubs in northern and southern California.  Many of my photographs have been published as illustrations for articles and covers of the Journal and Haseltonia, as well as the Timber Press Book of Succulents of the World.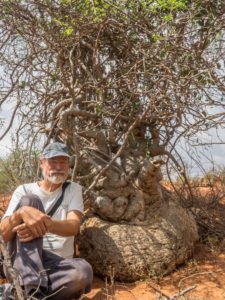 Rob Skillin bio
Open Greenhouse Day 2018
Kenya Program Description
1960 Freedom Blvd, Freedom, CA 95019
_____________________________________
Save the date – Future meetings are every 3rd Sunday
Board Meeting: 11:00 (members welcome)
Gathering: 12:00
Potluck Lunch: 12:30
Program: 1:00
__________________________________________________________
Save the Date
Spring MBACSS Show and Sale
San Juan Bautista Community Hall
10 San Jose St, San Juan Bautista, CA 95045
March 24 & 25, 2018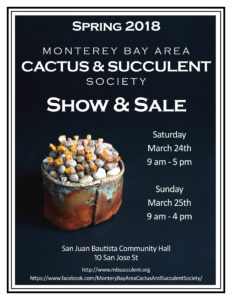 There will be a  blues duo will play outside of the show near the front doors 11am-3pm on Sat the 24th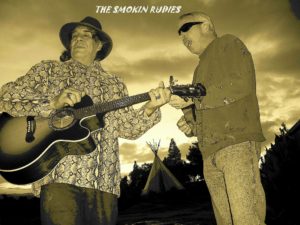 ---
For more information about MBACSS please send email to: tom@karwin.com